Four Rice seniors have designed and built a device to assist in the diagnosis and treatment of orthostatic hypotension. The team has been a finalist in the Johns Hopkins Healthcare Design Competition and the University of Minnesota Design of Medical Devices Student Showcase. 
Team members are Bhavya Gopinath, Alex Lammers and Angelica Torres in bioengineering (BIOE), and Corbett Fong in mechanical engineering (MECH).
The project was assigned through a senior capstone course. Teams partner with project sponsors who pitch problems and potential solutions for students. Doctors from the Texas Heart Institute were interested in a wearable medical device to replace compression stockings. 
"We brainstormed individually then came together to review and rank all of our ideas," Torres said. "We looked at the sub-functions and then the problem as a whole."
The team designed a smart abdominal binder that compresses the patient when necessary, is easy to put on, made from breathable material, and is able to collect and send data to the patient's physician.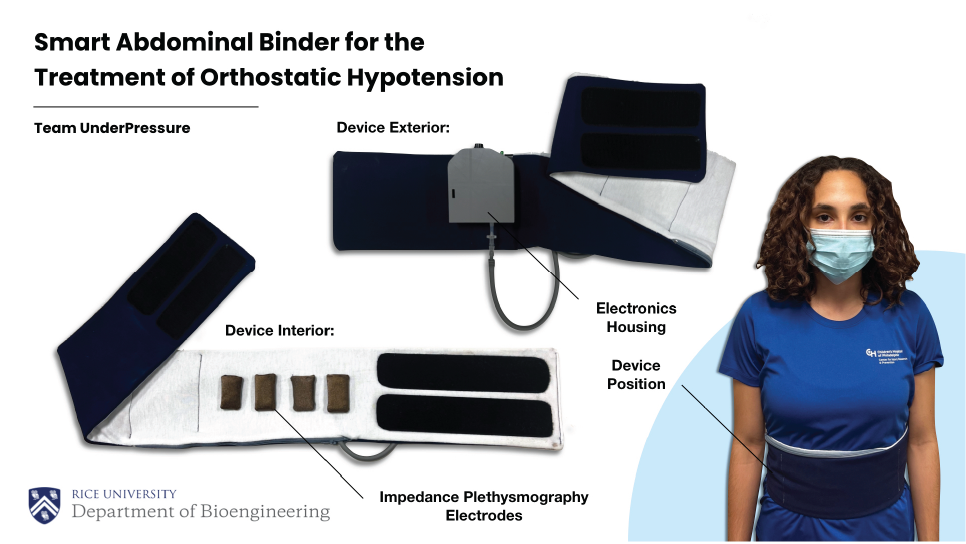 While attending the design competition in Minnesota, held April 12, the team connected with conference attendees who had been diagnosed with orthostatic hypotension.
"Hearing their affirmations for our understanding of the problem and positive reactions to interacting with the device has been especially meaningful," Lammers said. 
The team has also begun to see the potential of their device to change the way orthostatic hypotension is clinically managed. 
"Working with our sponsors helped us realize there is a gap in diagnosis and treatment of the disease," Gopinath said. "Our device aims to address both issues."
The project offered the team opportunities to work outside of their original skill sets. Team members had to learn how to code in Python, embed software design and analog signal processing.
"As a mechanical engineer, a lot of our coursework looks at theoretical systems,"  Fong said. "Having the ability to apply my mechanics and dynamics knowledge to a real world problem was an awesome experience." 
The team would like to thank their advisers, Sabia Abidi, lecturer in BIOE, and Matthew Elliott, lecturer in MECH, and their project sponsors, Dr. Mehdi Razavi and Dr. Robert Paisley of the Texas Heart Institute, for their guidance throughout the design process.