Why a BS in BIOE?
Our program has been consistently ranked among the nation's top 10 bioengineering/biomedical engineering undergraduate programs since 2008.
Rice University is located in the heart of Houston, TX, which is the fourth most populous city in the nation and home to a growing biomedical and technology industrial base. Our neighbors include the Texas Medical Center (TMC) and its member institutions. The TMC is the largest medical center in the world and the eighth-largest business district in the U.S.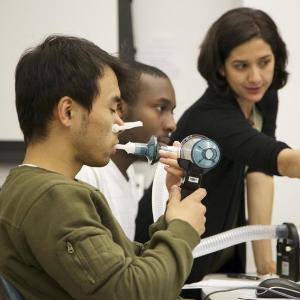 The distinctive characteristics that exemplify the quality and productivity of the Rice bioengineering program include:
Advantages of small classes and access to cutting-edge laboratory facilities;
Multidisciplinary academic and entrepreneurship programs that use experiential learning to build critical problem-solving skills, bring innovative ideas to life, and encourage teamwork;
Real-world engineering design experiences that begin as early as the freshman year and extend throughout the senior year. Courses are centered upon invention education from identification through implementation;
Integrated writing and communications programs through the Center for Academic and Professional Communication for technical disciplines;
Collaborative culture that mixes teaching and research, and encourages active undergraduate participation in research and engineering design;
Central location to the Texas Medical Center, research centers, institutes, and industries; and
A residential college system that builds close-knit communities, encourages diversity and is supportive of academic interests, talents and goals.
---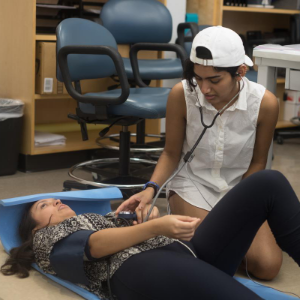 Admission
All prospective undergraduate students should apply through Rice University's Office of Admission. The Office of Admission can also help schedule visits to campus for prospective undergraduate students.
---
Alumni Outcomes
Undergraduate alumni from our program have gone on to attend top graduate and medical schools, and work for companies seeking technical skills in bioengineering. About 53% of 2020 BSB graduates plan to attend medical or graduate school in Fall 2020, with 45% entering industry and 2% taking a gap year or devoting a year of service to such organizations as the Peace Corp. and Teach for America.
Our alumni work in a variety of specialized areas, including:
Health care as a physician, physician-scientist, practitioner, or professional engaged in basic and clinical research;
Academic tenure-track and non-tenure-track positions in education and research, secondary education, and administration;
Industrial research and development in biomedical, health informatics and health IT;
Biotechnology, biopharmaceutical, and materials and manufacturing; or
Other sectors, such as law and finance that also require technical expertise and training.