As the semester draws close, it is fascinating to look back and see how much has changed from when I first came to this program to now. In this short year I have gone from having a bachelors to a masters, knowing little about startups to feeling like an expert, having few friends outside of Alabama to many, and most of all from speaking to people in person to now over zoom. Everything is so different for me as I venture out into the world for my second time and I am excited to see where my roads will take me.
Before the pandemic hit, I was able to venture outside of Houston for the first time since the school year had started. My grand adventure took me to the little-known town called Austin with my friends Hannah, Erik, Michelle, and Ryan. During our time there I became acquainted with some local wildlife and breweries as we walked around the town lake and brewery district. The second day though was the best cause we waited in line for 4 hours to get Franklin's barbecue, the best barbeque according to a Swedish magazine I saw on the wall. Let me tell you they were right it was flavorful and tender, but the best part was after I gorged myself on close to $60 worth of food; I didn't feel bloated at all. We closed out the day by watching the invisible man in the alamo draft house which was my favorite movie going experience by far.
As the COVID-19 pandemic hit full swing soon after we got back, finishing up our projects became more difficult than we expected when we set up. Things have definitely been scaled back and we have doing the best possible given our circumstances. For our laparoscopic perfusion, we have moved out of the space and into my compatriot, Eddie Yao's, living room where we now do all our soldering and other prototyping. It's completely safe and there are no flaws in the current working environment in case any OSHA fanatics out there are reading it. As far as my radiotherapy project goes, my floor is now covered in Loc-Lines and hex nuts and 3D printed parts galore, but on the upside, we have an assembled iteration of our design that my roommate said was usable. Unfortunately, we will have to leave the design as usable as we are unable to continue through with our 3D printing iterations of the design. However, though all of our projects are at a place where we are able to hand them off to the stakeholders in a useful state.
Outside of the projects, COVID has shifted everything to online making so I haven't had to leave my room except to walk around in the sunlight to make sure I have a vitamin D. It's been interesting having all our class move online to zoom and hangouts but as the end of the semester draws close, we are finally getting used to it. From the fun virtual backgrounds and people unknowingly muting themselves, online classes has been more fun than I expected it to be. Me and my friends have even taken our happy hours to the virtual world, which has honestly been nicer than going out in some ways. I did have to cave though and spend my last lent sushi with my good friend Eddie in person, it just felt too wrong to send off lent through a screen. I also took towards exploring the school more with my tour guide Erik leading me to find this gem of photo in the Rice 360 area.
This year has been amazing and I will always cherish my time spent in this program.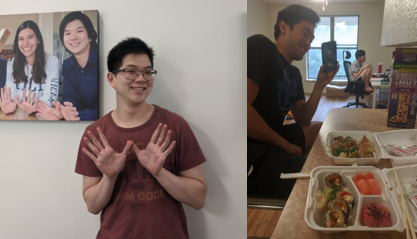 Between the COVID and administrative shakeups, things have really changed for all of us in the program. As we all part ways to continue our individual careers I can't help but look back at where this all began for us. A year ago, I was leaving Alabama and the United States for the first time as I made my way to Costa Rica. I was forced to live with two wild hooligans named Eddie and Erik as my world quadrupled in size. I interned at ICU medical on the weekdays and traveled Costa Rica on my weekends. Eventually, my Tico adventure ended and then I was working on projects and needs finding at MD Anderson. After getting swapped around 4 times I settled into my groups for the rest of the year and got to work. We were praised and scolded, brilliant and backwards at times, terrified and elated as we made our way through our projects. At the end of it, I think we all are able to walk away smiling, not regretting anything about our time at this program and only looking forward to the bright future sprawled out in front of us.
To my brothers and sisters in arms – Thank you, Erik for the cooking lessons, Eddie for being photogenic, Hannah for the interesting tea, Matt for talking anime, Lamiya for the Maggi ramen, Aedan for Midwest bagels, Genevieve for bringing the Irish, Rocky for warning me about my high venous bifurcation, and Ellie for warning me about consulting. And to Will Clifton, Sarah Michelle, and LaShuane DeJean; thank you for the knowledge you gave me, reminding me of what six olds don't forget, and all the southern hospitality. This year has been amazing and I will always cherish my time spent in this program.
---
Learn more about our one-year, full-time Master of Bioengineering in Global Medical Innovation.