This semester has definitely taken a very unexpected turn in response to the global pandemic. What once seemed like a very promising semester full of hope for the future, tangible progress on my medical projects, and a final shot at the national title in track has all been taken away almost overnight. I remember how the first day it started with track season being postponed, and then the next day the NCAA canceled everything including conference and nationals, and then Rice decided that everything will be moved online for the rest of the year. 
It was almost too surreal to believe and I still haven't fully comprehended what this means. Although I am upset that no more technical progress can be made on my two projects – Guide-ox and PatchVax – I think the hardest blow comes socially and athletically for me. Rice had just won indoor conference in track and I had obtained the conference championship in the 200m right before this. This has never happened during my time at Rice and the whole team was ecstatic to win the outdoor championship and make history, while I was ready to not only win the outdoor conference championship in the 200m but to go to nationals and set a new record. However, a week before the start of the outdoor season, we received the news that the NCAA had canceled all sports competitions. This was final track season, and I was devastated. I watched as all my friends who live on campus were forced to pack up and go home almost overnight while I was unable to say goodbye to them and will likely never get the chance to see them again. I have ran track my entire life and it has always been a part of who I am and now I am forced to let go of this part of me without even getting the opportunity to give it my all and go out with a final bang.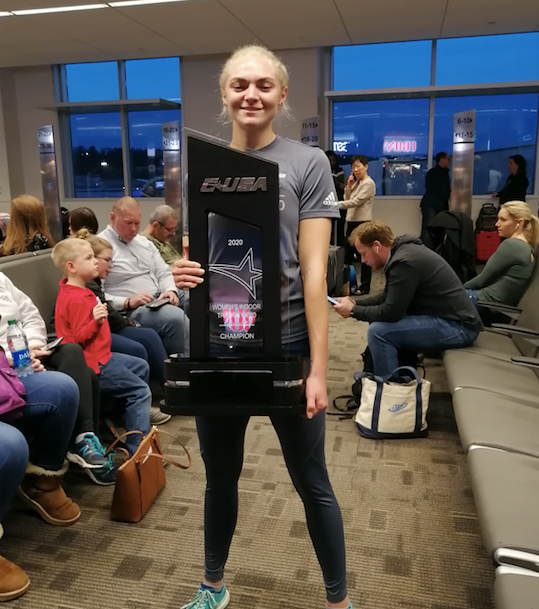 Even with all of the disappointment, there is still some positive things that have happened due to COVID-19. I have been able to travel back to Louisiana and stay with my family whom I rarely see. Being able to bond with all of my siblings before they all leave to go to college has been wonderful. I am also helping with the Houston COVID response team by contacting hospitals and nursing homes around Houston and connecting them with vendors and donors who can give them the medical equipment that they desperately need. 
Aside from this I am also excited for my future plans! I was admitted into the PhD program of my dreams and have accepted the offer. This program - called HST - is a joint PhD program between Harvard and MIT, where students are allowed to do their thesis in any affiliated research lab at Harvard, MIT, or the research hospitals while simultaneously taking medical classes at Harvard medical school and doing clinical rotations.
I was admitted into the PhD program of my dreams and have accepted the offer. This program - called HST - is a joint PhD program between Harvard and MIT
Since I heard about the program in August, I have worked my butt off to get in because my long-term goal is to do translational research and help bridge the gap between research and the clinic. This program would allow me to accomplish this by giving me extensive medical knowledge and training which will allow me to design medical devices and experiments that are clinically feasible and meet real unmet needs. GMI addresses this same goal, and so I will be able to take the experiences I have gained in GMI and put them to use at HST.
As for my two projects – Guide-Ox and PatchVax – we are unable to do much technical progress with either of them. Guide-ox has the advantage, however, in that one of my teammates Eddie is able to continue building the circuitry for the device in his bedroom and we can attempt to perform very limited testing to gain some data with it. PatchVax, however, required wet lab capabilities and because all of the research labs have been shut down, we are very limited. For both project, me and my team are focusing on doing as much regulatory work, such as patent searches and SBIR claims, as possible to continue making progress during these rough times.
---
Learn more about our one-year, full-time Master of Bioengineering in Global Medical Innovation.