When thinking about my goals and expectations for the rest of this semester, I would never have guessed that writing my last blog post from my family's home in Dallas with no concrete plans to return to Houston until the summer would have made the list. Like the rest of the country, we have shifted to finishing out the semester remotely due to the concerns of the COVID-19 outbreak. However, while classes can easily switch to online presentation formats, performing validation and usability testing for medical devices over Zoom and Google Hangout has proven to be a bit more of a challenge. Unfortunately, a lot of big events, including graduation, have been cancelled or "postponed indefinitely," but it's been a fun exercise in the past few weeks getting creative to wrap up this semester and the entire program!
Since February, our Laparodome has made considerable progress in finalizing the design, the materials and the documentation associated with the project. We've connected with a lot of interesting stakeholders in the Texas Medical Center and around the country who have provided a lot of insight and feedback on our design but, most importantly, validated the need and how our choices fill an interesting niche within this relatively crowded market of laparoscopic training. Since I've moved home for the foreseeable future and we are encouraged to socially distance from any strangers we could use for testing, I've leveraged the shockingly willing participation of my family as highly untrained users for verification and usability testing.
We've connected with a lot of interesting stakeholders in the Texas Medical Center and around the country who have provided a lot of insight and feedback on our design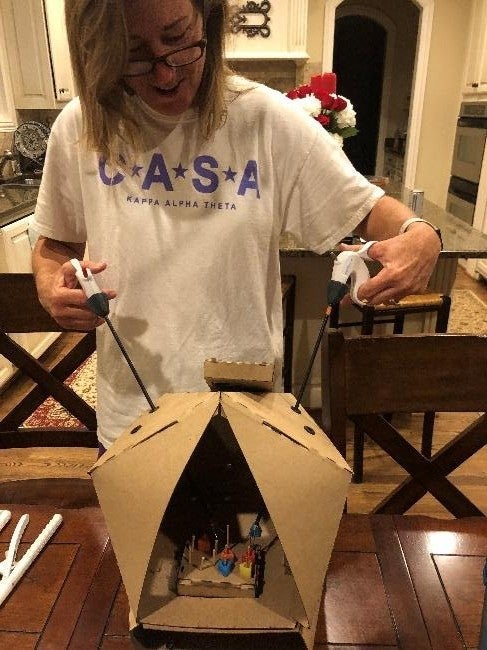 Ideally, we would have been able to travel to Costa Rica to implement the device in the medical school there that we've partnered with, but we will have to resort to a virtual handoff in a few weeks. We were also accepted to present at the Society of American Gastrointestinal and Endoscopic Surgeons (SAGES) Conference which has also been postponed. While the project is coming to a less-than-exciting closure in the coming weeks, I'm really proud of what my team has accomplished, our design decisions and considerations, and the growth we've experienced along the way.
EVA has also had tremendous success and made considerable progress over the past few months as well! In February, we pitched at the Rice Business Plan Competition internal qualifier and won the event, meaning we earned $2,500 to continue our project development and have been accepted into the Rice Business Plan Competition. In this competition, we were going to pitch against 40+ other startup teams from around the world in a huge event that occurs annually on campus. We were also looking forward to the connections and mentorship we were going to achieve through this endeavor, but, to no one's surprise, it was cancelled with possible postponement to June. We do have a virtual design competition through Johns Hopkins CBID program coming up, so, while pitching remotely over Zoom isn't ideal, we do have at least one opportunity to share our business plan that we've worked so hard on. 
Erik has done an amazing job making technical progress on this project throughout the semester, and I really wish we would have been able to conduct the clinical and usability testing that we had planned for this spring. For now, Rocky is using a tissue simulator at home and making his wife act as our untrained user, and it's as good as we're going to get with social distancing still in place. We did apply for OwlSpark, a startup accelerator, for this summer, so development might continue for a few months which would be an exciting opportunity to see where we can take this. It's been so rewarding getting feedback from clinicians about the usefulness of the device, delving into the documentation and technical details associated with creating a medical device, and getting feedback on the business plan while expanding our networks with new mentors. I'm SO proud of this team and can only imagine what we would've accomplished if we had the full opportunities this semester. 
Outside of all the hard work we've put in, we have had lots of social activities to keep us busy. In the pre-quarantine days, a group of us went to Galveston for Mardi Gras in February and went out to see turtle racing a few weeks ago. I also ran a half marathon in Katy with my roommate, went to the rodeo a few times before it also got shut down, and got to see my parents at our beach house in early March. None of us were able to travel for spring break because of the restrictions, but we have continued to have remote happy hours and game nights over Zoom to keep in touch. Personally, like Erik, I've used the extra free time to cook and have made a handful of really good recipes, including brie and asparagus risotto and a no-knead focaccia. They might beat Erik's braised pork belly, but we're going to have to save the cooking competition until after social distancing is over. 
While I'm disappointed about a lot of the abrupt endings to this program due to the global health crisis, I'm so grateful for the opportunities that it's given me to grow academically, personally and professionally over the past year. A HUGE shoutout to this year's cohort, Dr. Clifton, Sarah and LaShaune for challenging me, encouraging me and pushing me to be a better version of myself. I have said this multiple times in interviews, but I could not have made a better decision in choosing to pursue this degree at Rice, and I'm so eager to see where it takes me and my classmates as we continue our careers in pushing the boundaries of innovation and tackling the world's medical problems. We won't have a formal graduation ceremony and may not even have the chance to say goodbye to each other in person, but I know that I will deeply cherish and appreciate the network and community that I have been given because of this unique program and the life-changing experiences it has given me.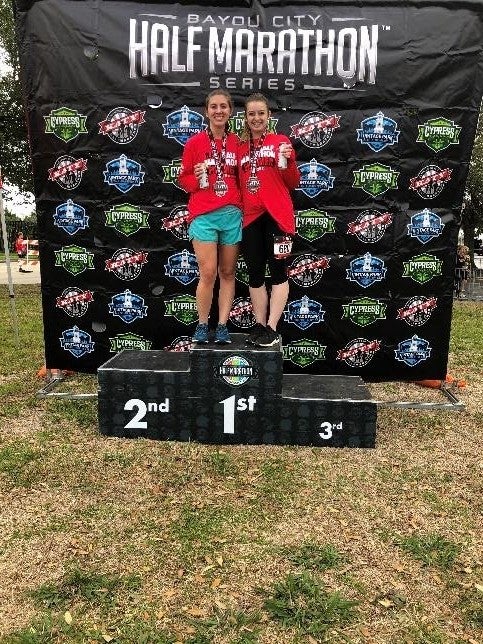 I will be staying in Houston after "graduation" to work for a medical device product development accelerator for startup companies within and beyond the Houston entrepreneurial ecosystem, and I'm so excited to start to lay down roots here. To any future students, please feel free to reach out with any questions or advice you may need coming into the program! To Dr. Clifton, Sarah and LaShaune – thank you for your support, advice, and life chats that have meant more to me than you can imagine. And to my current classmates, thank you for everything – the nonstop laughs, Erik's cooking and sassy text messages, Rocky's unparalleled passion about vascular access, snack breaks in the GMI space, Matt's green energy and chocolate fish rice, Eddie's Instagram influencer status, someone always being willing to brainstorm and validate ideas, Lamiya's warm water, Luc's exquisite culinary taste, the Laparodome gallery, Aedan's 4s game, $1 ZiegenStars at Valhalla, Genevieve's thoughtful birthday and thank you gifts, and Hannah always having some tea to share. You guys are brilliant and incredible, and I'm so excited to see what you accomplish in the future.
---
Learn more about our one-year, full-time Master of Bioengineering in Global Medical Innovation.