What a crazy last few months!  A global pandemic has taken over the world and thrown us all into an unprecedented situation. Luckily, our classes could be moved into the virtual classroom and progress can be made through some creative means. Now, everyone has slowly adjusted to social distancing, Google Hangouts, and Zoom classes, and we have found some unique ways to finish out our projects for GMI. 
Prior to COVID-19, Laparodome had reached a design freeze for our laparoscopic training device. Before international travel was suspended by Rice, we were able to send one of our prototypes to Costa Rica, courtesy of our great TA, David. Our stakeholders loved the design and we are looking forward to meeting with them to discuss improvements and answer any of their questions about the training device.
With a smartphone compatible holder for our camera, we were able to move forward with our verification and validation testing using some creative methods. In Houston, using an environmental testing chamber, our device was enclosed in the chamber to simulate extreme temperatures and humidity that could affect the cardboard design. Due to the shutdown of the university, our testing got cut short, but still showed promise as we were able to simulate up to 1 month of extreme exposure. 
For usability testing, the Reynolds' household were our guinea pigs and Ellie got lots of insightful feedback from our untrained users. The mobile app with our device is close to being finished and will be an added bonus to help with laparoscopic training. As the project gets wrapped up, we are looking to publish our work onto an open source platform to increase our potential global impact. Laparodome has been a great success and I couldn't ask for a better team to work with on our training device and build out our very own Laparodome museum (mostly Erik).  See y'all at SAGES 2020!
As the project gets wrapped up, we are looking to publish our work onto an open source platform to increase our potential global impact.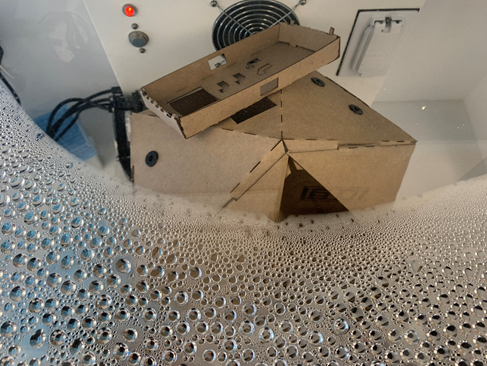 With Guide-Ox, the recent situation has forced me to take my work home, literally into my home. I set up an electrical circuit prototyping space in my living room and got to testing our circuit.  With the help of the team, we were able to make progress despite these unique circumstances and are looking forward to finishing our project with CDI. It will be interesting to continue our "benchtop testing" on my living room floor. 
Even with COVID-19, we have still kept our weekly cohort happy hour going, moving them onto Zoom. I was also bestowed the great honor of accommodating Luc's unique dietary requirements for Lent Sushi on Good Friday. He can finally return to his normal diet of no veggies.
Unfortunately, the end of my time at Rice did not go as planned. Timelines for projects were changed, graduation will be online, and the program will be changing. Despite the recent changes, I've thoroughly enjoyed my time in Houston, at Rice and in the GMI program.  
Thank you so much to Dr. Clifton, Sarah, and LaShaune for providing us with all the loving support, advice and endless help with everything during our time at Rice. Without you all, I don't think my experiences in the program would be the same and I definitely would not have grown so much academically, professionally, and personally. 
And, thank you to everyone in my cohort. I've made some wonderful memories and friends along this journey. From the beaches in Costa Rica to the countless hours in the GMI space and all the inside jokes, this past year has been a memorable experience for me. Hopefully, after all of COVID-19 has settled down, we can all meet up. I can't wait to see what exciting things everyone will do next.
Shameless plug of my Instagram, @eddie.yao8, to follow my influencer journey.
---
Learn more about our one-year, full-time Master of Bioengineering in Global Medical Innovation.