Graduate school is a long journey—one that is inspiring, frustrating, challenging and everything in between. Though others have written about the ways graduate school mirrors marathon training, we've noticed the ways running differs from the Ph.D. process and has supplied us with the necessary balance in our graduate school careers.
As we completed classes, thesis proposals and teaching requirements, we looked for constructive ways to balance out the open-ended structure of the next few years. In graduate school, it is tempting to feel you don't have time for serious hobbies, but the success of our faculty adviser and principal investigator, Rebecca Richards-Kortum, contradicted that notion.
We watched from the metaphorical sidelines as our adviser trained for several marathons while excelling at the top of her field. Although the three of us had experience running short distances to stay in shape, we had never considered running a long-distance race. But given our desire to work toward short-term goals outside the lab and the positive example of our adviser, the idea of training for a full marathon seemed more attractive. Just outside our building, the three-mile shaded trail around the Rice University campus provided the perfect spot for more serious training and longer distances.
Before we knew it, running became a rock, something we depended on for grounding, and that helped improve our mental health. In contrast to largely unstructured days of research, we could plan our running schedule weeks in advance. Also, a running workout cannot be put off without consequences, forcing us to finish our school work in a defined time period in order to get to our workout. When sticking to our running plans, we saw tangible improvements in being able to take fewer breaks, run longer distances and improve our pace.
While consistent research effort throughout the duration of a Ph.D. improves our abilities as researchers, it can sometimes be difficult to see that progress and stay motivated. Running began to help us balance the Ph.D. experience through short-term milestones and structure.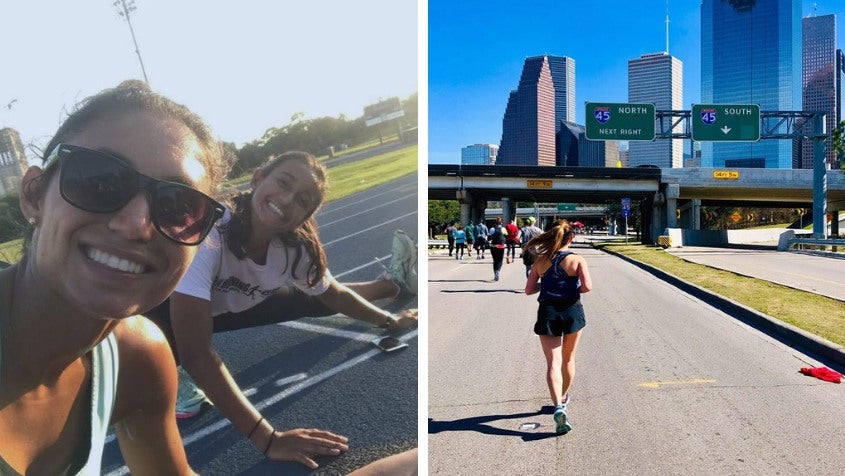 It wasn't long before we found ourselves huddled in the cafe of the BioScience Research Collaborative, signing up for the 2019 Chevron Houston Marathon. We figured if our adviser could find the time to train for the 26.2 miles, we could too.
Although it felt daunting to commit to running up to 30 miles each week, we found ourselves more focused and productive at work, and happier overall. Importantly, we also found a support network. Within this network, some of us benefit from weekly runs together. Lunchtime conversation soon focused on nutrition, tales of our weekend adventures, and shared pride and complaints about our sore muscles.
Some of the miles were easy; some were excruciating. We could not have gotten through them without the support and encouragement of each other and the weight of our commitment. Our community of friends made it easier to commit to the marathon and to endure the toughest days of training, while getting each other across the finish line.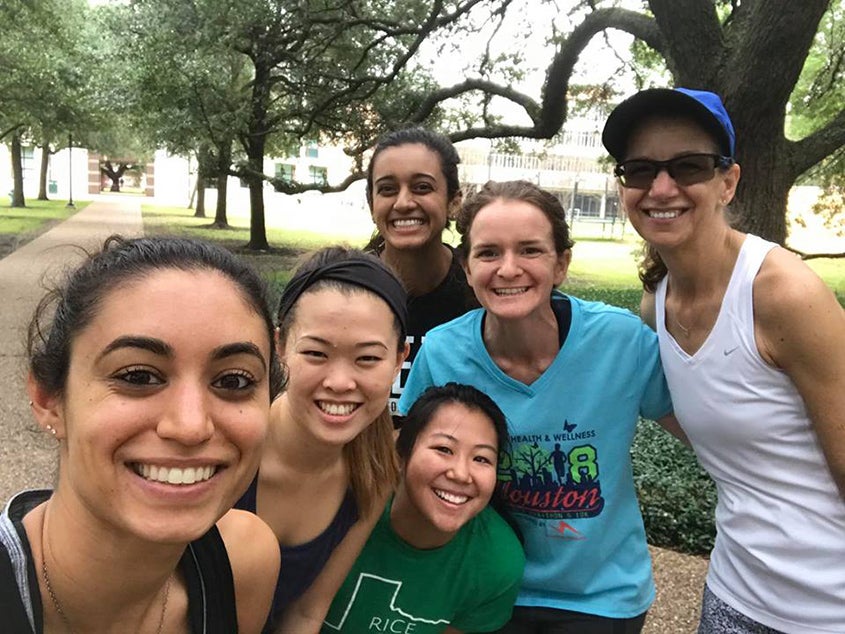 During the race, we were energized by the cheers of our lab members and friends on the sidelines. And when we crossed the finish line, the feeling of accomplishment made our work and sacrifices feel worth it. Within our lab, we work hard to support each other in research as we do with running. We try to reason through the challenges of our research projects together, talk through what feels tough at any given time and build each other up, just like we did in marathon training.
It can be difficult to measure progress in graduate school, with only two major evaluations, the thesis proposal and defense. From our experiences with running, we've learned the importance of finding healthy, fun ways to improve mental, emotional and physical health in graduate school. Although running is what works for us, time spent finding an activity that targets your specific challenges is always worthwhile. Thanks to our commitment to running, we have become more confident, healthy and focused team members and researchers.
Mary Natoli, Melody Tan and Kathryn Kundrod are bioengineering doctoral candidates in the lab of Rebecca Richards-Kortum at Rice University